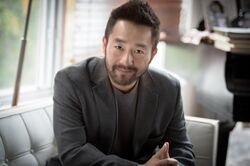 Wesley Chu (朱恆昱) is Chinese-American author known for his science fiction works. He is currently co-writing The Eldest Curses with Cassandra Clare, and the first installment is set to be released in November 2017.
Personal life
He was originally raised by his grandparents in Taiwan while his parents were studying in the United States. In 1982, he joined his parents in Lincoln, Nebraska, later settling in Chicago in 1990. He received a degree in management information systems from the University of Illinois, worked consulting jobs, then spent ten years in the banking industry. He has acted in film and television, and has also worked as a stuntman.
Chu's first novel, The Lives of Tao, was submitted in 2011 to Angry Robot Books as part of their "Open Door" process, and published in 2013. It was selected as one of the 2014 Alex Awards winners. Chu became a full-time writer in 2014. He was nominated for the John W. Campbell Award for Best New Writer in 2014 and 2015, winning the second time. Chu signed a contract with Angry Robot Books for a new series, continuing the Tao series.[1]
The first novel of his new series, Time Salvager, which was published by Tor Books,[2] has been optioned to Paramount, with Michael Bay attached to direct.[1]
Wesley's work has been translated into German, Hebrew, Hungary, Russian, Chinese (Taiwan & China).[2]
Shadowhunters bibliography
References
External links