"Their world was not the same shape as the one she knew."

The subject of this article is a real-life person, place, company, product, or creative work that has been mentioned "in-universe" in a canon source. The Shadowhunters' Wiki is written from the perspective that all information presented in canon is true (e.g., Idris really exists), and, as such, details contained in this article may differ from real world facts.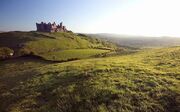 Wales is a mountainous country that is part of the United Kingdom and the island of Great Britain.
Locations
Homes
In 1857, Edmund Herondale and his wife Linette moved to Wales and lived near Dolgellau in the shadow of Cadair Idris for years, until their daughter Ella died and son Will disappeared. By 1876, Edmund had gambled their house away and they were forced to move.[1]
Shadow World
In the 1870s, Axel Mortmain took up residence in Cadair Idris to work on his automatons in seclusion. Due to the reputation of the mountain—that it was a site for dark magic and home to the Wild Hunt—mundanes steered clear of it.[1]
Others
Llyn Cau
Llyn Mwyngil, also known as Tal-y-Llyn, the lake that serves as an entrance into Cadair Idris.
Dolgellau, a small village.
Cwm Cau
References
Ad blocker interference detected!
Wikia is a free-to-use site that makes money from advertising. We have a modified experience for viewers using ad blockers

Wikia is not accessible if you've made further modifications. Remove the custom ad blocker rule(s) and the page will load as expected.