The gift that keeps on giving, ladies and gentlemen.. Cassandra Clare!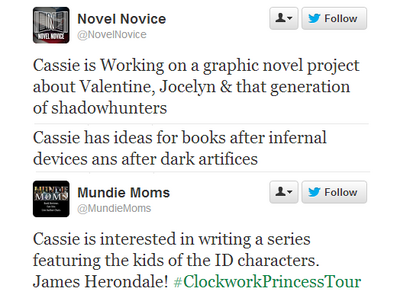 Sorry for crappy editing, I'm freaking out right now, but here it is:
from @MundieMoms
"Cassie is interested in writing a series featuring the kids of the ID characters. James Herondale!" tweet
from @NovelNovice
Ad blocker interference detected!
Wikia is a free-to-use site that makes money from advertising. We have a modified experience for viewers using ad blockers

Wikia is not accessible if you've made further modifications. Remove the custom ad blocker rule(s) and the page will load as expected.