Prepare yourselves, Shadowhunters...CASSIE IS RELEASING ANOTHER SHORT STORY COLLECTION!! The last one was a collaboration with Sarah Rees Brennan and Maureen Johnson all about our favorite fabulous warlock, Magnus Bane, and this next one seems like it won't disappoint fans!
The short stories will be about...drumroll, please...Simon Lewis!!!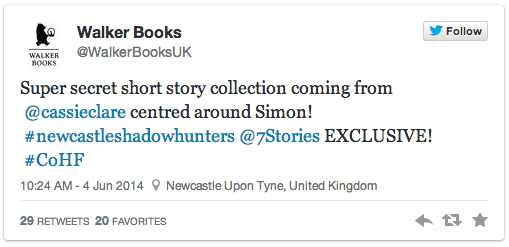 Simon is one of our absolute FAVORITE characters from The Mortal Instruments (book series) and we're excited to see what these short stories will be like! Are you excited to see things through his eyes? Sound off in the comments below!
Are you excited for a Simon Lewis collection?
---
---
Ad blocker interference detected!
Wikia is a free-to-use site that makes money from advertising. We have a modified experience for viewers using ad blockers

Wikia is not accessible if you've made further modifications. Remove the custom ad blocker rule(s) and the page will load as expected.