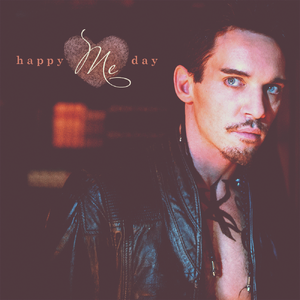 Happy Valentine's Day, Shadowhunters!!
With the build up from the official The Mortal Instruments: City of Bones social media accounts, there was a sudden rush of new information concerning the movie that got released today! With interviews, special set visits, and even more, the Mortal Instruments fandom is going crazy trying to digest all the new tidbits given to them!
If you are confused, here is a rundown of the most important stuff. Be sure to head over to the movie page for a complete list of information about the film, its cast, and production notes!
Only some of the backstory has been lost in the adaptation because Cassandra Clare fought to keep all of the important scenes from the book in the movie.
The chemistry between Jamie Campbell Bower and Lily Collins made Clare so happy she actually cried! Aaaw!
The Institute set is exactly as Collins envisioned it in her head, and she got emotional the first time she saw it!
The producers actually took in-depth looks at fan art to get a handle on the visualization of the world. That means the TMI fanbase actually had a significant amount of input into the film's creative process!
Jared Harris liked the thrill of acting out a fight scene with Robert Maillet—whom he describes as "a fucking enormous man"—because he recognizes that he'd "crumble" if the man actually connected. So awesome!
In an interview with Jamie Campbell Bower, it was mentioned that a lot of people did not like him for the role of Jace Herondale. He responded, "[It] made me want to prove to these people that say I can't do this that I really can. If I can win over 50% of the people who said that I couldn't do this or didn't want me to do this, then I feel like I've done my job."
A set visit revealed part of the script:
Valentine Morgenstern (Jonathan Rhys Meyers) is holding Clary Fray (Lily Collins) down on a long wooden table. He's angry, and getting more frustrated with each passing second. Standing close by is Jace Wayland (Jamie Campbell Bower), who is covered in tattoos, and he looks concerned. After some time passes, Valentine screams "I want my cup!" A second later, he slams Clary's head onto the table and turns around and hits Jace. Immediately Jace says, "you said you wouldn't hurt her!" and then grabs a long wooden staff to go in for the attack.
Umm, this all sounds AMAZING and it's not even everything!! A new picture is getting released today, Clockwork Princess is coming out in 33 days, and a new City of Bones trailer should be out in the next few months!
With so many great things coming our way, the wait for the movie to come out is only SLIGHTLY more bearable, but we still can't wait!
What are you most looking forward to seeing in the movie? Sound off in the comments below!
AND, as a special treat, here is another cast photo from the set!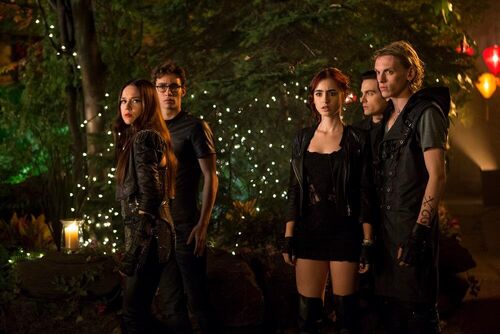 Sources:
Ad blocker interference detected!
Wikia is a free-to-use site that makes money from advertising. We have a modified experience for viewers using ad blockers

Wikia is not accessible if you've made further modifications. Remove the custom ad blocker rule(s) and the page will load as expected.