Home
Talk

17
644pages on
this wiki
---
Welcome to the Shadowhunter Wiki
The collaborative wiki for the best-selling Shadowhunter Chronicles by Cassandra Clare!
Warning! This wiki reveals plot details about the series. Read at your own risk!
Vote for the future front page features here!
We currently have 644 articles and 1,772 images.
However, we still need your help! Help us expand the wiki! If you're new to Wikia, below are some links to help you get started.
---
---
Poll

Which is the best Shadowhunter Chronicles concept?

 

Featured Quote

"
Remember when you tried to convince me to feed a poultry pie to the mallards in the park to see if you could breed a race of cannibal ducks?
"

Trivia

Did you know...

... that both Clary and Tessa were mistaken by their love interests (Jace and Jem) as their parabatai (Alec and Will) in the first book of their respective series, and both men were playing a classical musical instrument (piano and violin) at the time.

~ City of Bones and Clockwork Angel
Featured Video
---
WIP Project
The WIP Work In Progress Project is a wiki project devoted to the completion of the wiki pages with series information. A lot of the pages still need expansion and cleaning up, and the wiki is currently being improved, in more ways than one. This can't be a one/two/three-man job; we need all the help we can get! So if you're interested, just click this link to know more.
An example of a currently crucial but incomplete page is Clary Fray's. Her page is incomplete, particularly her biography, which is unfortunate, given that Clary is the main protagonist of The Mortal Instruments. Any contribution to the expansion of the section would be appreciated, so feel free to edit away, and we'll do the rest.
About
The Shadowhunter Wiki is a growing wiki, an encyclopedia-like source of information, for The Shadowhunter Chronicles by Cassandra Clare. The series includes The Mortal Instruments, The Infernal Devices, The Bane Chronicles, the upcoming The Dark Artifices and The Last Hours trilogy, The Secret Treasons graphic novel, and some other series Cassandra Clare has planned.
On this site, you can do lots of things! You can help us expand our wiki content by editing articles, join the community and meet other users online, either by chatting or conversing to one another through threads or blog posts. If you don't have an account yet, we encourage you to sign up!
A lot of the pages still need expanding, updating, and cleaning up, so if you see articles that you think you can help improve, go ahead and feel free to edit!
While we do have some policies in place, most are pretty basic. Meanwhile, the slightly more complicated Manual of Style serves as a guide to maintain the wiki's quality standards, so you don't have to worry about this much until you decide that you want to be a regular editor!
Countdown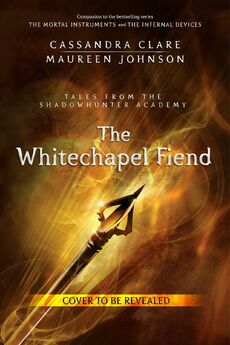 The Whitechapel Fiend will be released in...
April 21, 2015 12:00:00 PM Please enable javascript on your browser.
Social Media

Blogroll
Create blog post
Because it has become evident that the Upcoming TMI TV series will contain many big changes, here are some ideas I'd like to discuss with you guys... This is a little project the wiki may have to undertake in the coming months. Most of us know by no…

Read more >

How many of you think that Jace is realated to Hodge Starkweather, and more than one family?

Well here is my theroy. If you've read the Infernal Devices then you would have known that Aloysius Starkweather had a grandchild named Adele Starkweather bu…

Read more >
See more >