On this page will be a list of the extras, cut scenes, short stories, and other bonus features or special content within the series, released alongside The Infernal Devices or by Cassandra Clare herself.
Clockwork Angel
Clockwork Prince
Clockwork Princess
Chapter 22: A rewritten scene from Clockwork Princess. It is the scene that begins around page 468, with Will in Henry's room.
After the Bridge: (accompanying art) A story for those who might have wondered what Tessa and Jem did after they met on Blackfriars Bridge in the epilogue of Clockwork Princess. It [was] initially posted in [five] installments.
Fairytale of London: Part 1 of a tale of Will and Tessa's wedding and wedding night that wound up being a riff on Sleeping Beauty. To be updated with following installments or link to complete story.
Will/Tessa comic
source: Cassandra Clare on Tumblr
Will/Tessa comic from Cassandra Jean and [Cassandra Clare]. Tessa comes back from her yearly meeting with Jem with some news for Will. Or: when James Herondale got his name. With guest appearances by Charlotte and Cecily, Anna Lightwood and Charles Fairchild".
Family tree
This family tree was featured in the first edition of Clockwork Princess.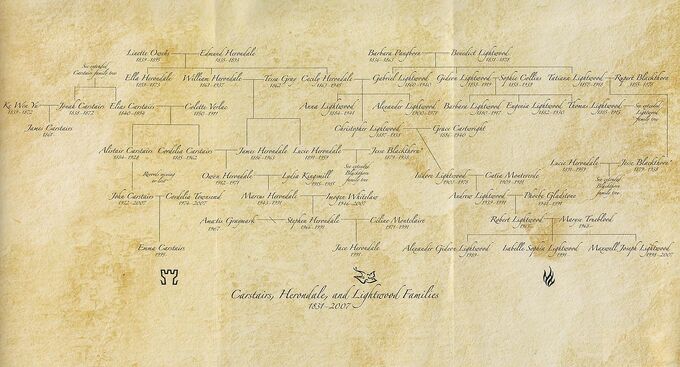 Cassandra Clare has stated several times that this family tree of the Carstairs, Herondale, and Lightwood families is merely a found object within the series and is actually subjective and incomplete, seemingly containing only the characters from The Infernal Devices and their children, some of whom are set to be in The Last Hours, and their main descendants leading up to the characters featured in The Mortal Instruments.[1] The family tree also did not include several female relatives (aside from the ones necessary for the immediate accompanying series) as the tree focused on the males who would carry on the family name.[2] Part of the Carstairs records, said to be missing or lost, was also destroyed, possibly deliberately, for some reason.[3][4]
It is also quite misleading, since the family tree only contains information thought true by whoever wrote it. Misinformation may include a political sham, secret, faked, arranged or fixed marriage(s) (though it may not be this)[5], or marriage of convenience,[6] adoptions,[7] people being secretly dead, people being secretly other people, faked deaths, or people written in as dead when they, in fact, only turned or became Downworlders or mundanes, among other natures of mistakes—unintentional or otherwise.[3][8][9][10][11][12][13][4][14] The real relationships, to be further explored in The Last Hours, may even be very different from the ones shown on the tree.[15] The fallacies and pretenses of the found family tree will be clarified or made sense of by the end of The Last Hours.[3][6]
London map
A map of London, with certain locations featured in the series marked and illustrated on the map. It was released with the repackaged editions of all the series installments.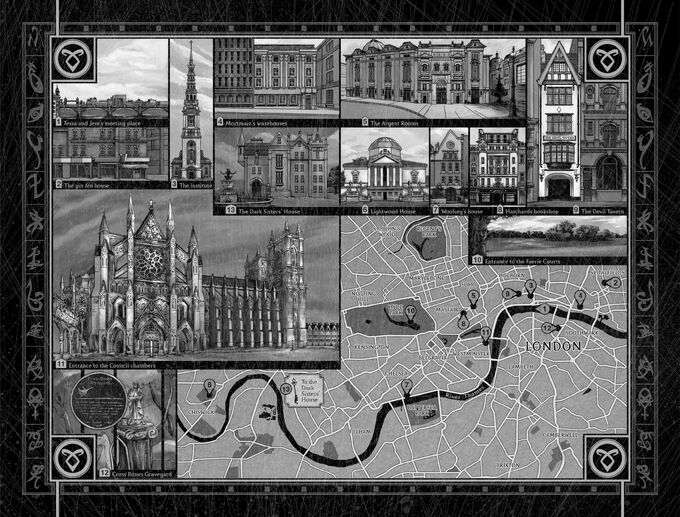 References