Pandemonium Club
Talk

0
422pages on
this wiki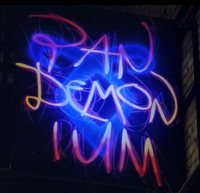 The Pandemonium Club may be referring to the organization or the club. Whether these are somehow connected is yet to be stated.
Infernal Devices
Edit
In The Infernal Devices, the Pandemonium Club is an organization of mundanes meddling with magic and the Shadow World. It is said to be a rather old organization of mundanes who have interested themselves in the magical arts where, at their meetings, they do spells and try to summon up demons and spirits. They are powerful in the Downworld, their members being rich and important figures in mundane society.
They were headed by the Magister. With the Dark Sisters at his disposal, they supervised a set of secret gambling dens frequented by Downworlders. They existed to lure mundanes in and trick them into losing all their money in magical games, then, when the mundanes fell into debt, they would extort the money back at ruinous rates. They ran some other businesses as well, most unsavory ones, such as brothels.
Its symbol was a double ouroboros, two serpents biting each other's tails to form a circle, symbolizing the end of the world and the beginning.
Their main purpose was to destroy the Shadowhunters.
The Mortal Instruments
Edit
In The Mortal Instruments, it is an all-ages club in New York. It was also a place where Downworlders and mundanes mingled. Shadowhunters also came to catch demons who sneak their way into the club.
The club is also where Clary Fray meets Jace, Isabelle, and Alec Lightwood for first time, and, according to Simon, the place that changed her.
Jocelyn Fray had told her daughter that she never wanted Clary to go there because Shadowhunters often went there to catch demons, and, this way, Clary would discover the Shadow World, as it happened.
References
Edit