Mortal Sword
Talk

0
422pages on
this wiki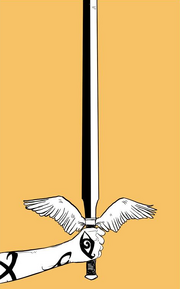 The Mortal Sword, also known as the Soul-Sword, The Angel Blade, or Maellartach, was the second of the Mortal Instruments given by Angel Raziel to Jonathan Shadowhunter. Kept by the Silent Brothers, it is an important artifact among Shadowhunters.
The Soul-Sword is used by the Inquisitor in trials to determine if a Shadowhunter is lying as it compels one to tell the truth. Although, Charlotte Branwell and Brother Enoch used it on Jessamine Lovelace.
The alliance of the Soul-Sword is seraphic, its power drawn from Angel Raziel himself. When Valentine stole the sword, he intended to perform the Ritual of Infernal Conversion to reverse its alliance from angelic power to demonic; this way, it will be of more use to Valentine's cause, such as the power over demons, and possibly even to bring them into Idris in number.
In order to perform the ritual, the Sword will be seethed until red-hot then cooled four times in the blood of Downworld children: a child of Lilith, a child of the moon, a child of the night, and a child of the fey.
According to Clary, when the Sword is used on Shadowhunters, it feels as if their hands are embedded in thousands of fish hooks, as if trying to pull the truth out of them.
The Infernal Devices
Edit
Clockwork PrinceEdit
The sword was used on Charlotte Branwell and Benedict Lightwood during a trial. Charlotte later had Brother Enoch bring it to the London Institute to question Jessamine.
The Mortal Instruments
Edit
City of BonesEdit
It was first seen by Clary Fray in the Silent Brother's council room, hung against the dark wall above the Speaking Stars. It was described as an enormous silver sword, with a hilt carved in the shape of outspread wings.
City of AshesEdit
Jace volunteers himself for a trial with the sword. It was later stolen by Valentine Morgenstern in his attack of the Silent City with the help of the Greater Demon, Agramon. Magnus Bane tells Clary and her friends that Valentine stole it for the Ritual of Infernal Conversion to build an army of demons.
City of GlassEdit
Valentine uses it to kill Jace and then throws it into Lake Lyn to summon the Angel Raziel.
City of Lost SoulsEdit
It was used to question Clary.