Mortal Instruments
Talk

0
469pages on
this wiki
The Mortal Instruments are the three divine items given by the Angel Raziel to Jonathan Shadowhunter, the first Shadowhunter. They consist of the Mortal Cup, the Mortal Sword, and the Mortal Mirror.
Main article: Mortal Cup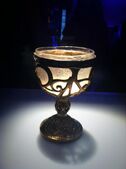 The Mortal Cup, also known as the Angel's Cup, was a cup from Angel Raziel. In the Bible, the Nephilim were the offspring of humans and angels, created more than a thousand years ago when humans were being overrun by demon invasions from other worlds. A warlock summoned the Angel Raziel, who mixed some of his own blood with the blood of men in a cup, and gave it to those men to drink. Those who drank the Angel's blood became Shadowhunters, as did their children and their children's children. The cup was used to create more Shadowhunters through the years, when Shadowhunter ranks were depleted. It can also be used to turn Shadowhunters demonic.
Apparently, the Cup mostly works on children. An adult would either be unaffected by the process entirely, or killed outright. Although, only selected humans are selected to be turned into Nephilim since most never survive the transition. It takes special strength and resilience and they must be extensively tested, which Valentine Morgenstern apparently wouldn't bother about when trying to create a new race of Shadowhunters.
A demonic counterpart of the cup, the Infernal Cup, was forged in City of Lost Souls.
The Sword
Edit
Main article: Mortal Sword

The Mortal Sword, also known as the Soul-Sword, The Angel Blade, or Maellartach, was the second Mortal Instrument given by Angel Raziel to the Shadowhunters, kept by the Silent Brothers. The Soul-Sword is used by the Inquisitor in trials to determine if a Shadowhunter is lying.
The Mirror
Edit
Main article: Mortal Mirror
The Mortal Mirror, also known as the Mortal Glass, Lake of Dreams and Mirror of Dreams by the Fair Folk, is in fact Lake Lyn in Idris. This was said to be the lake the Angel Raziel rose from, with his cup and sword. Since then, the lake was said to have been cursed.
It served as the entrance into Idris through a Portal, making it necessary to make your arrival known so someone will be at the other side to wait for you.
Ingesting the lake's waters can be poisonous to Nephilim, but have no effect on Downworlders. Faeries drink from the lake, saying that it gives them true vision, while the water causes hallucinations for the Nephilim, driving them to madness.
Each of the first three books in The Mortal Instruments series focus on one specific instrument: City of Bones on the Mortal Cup, City of Ashes with the Mortal Sword, and City of Glass on the Mortal Mirror.
References
Edit