Lady Midnight is the first novel in the The Dark Artifices series.
Description
Glitz, glamours, and Shadowhunters abound in this heartrending opening to Cassandra Clare's Dark Artifices series, a sequel to the internationally bestselling Mortal Instruments series.
It's been five years since the events of City of Heavenly Fire that brought the Shadowhunters to the brink of oblivion. Emma Carstairs is no longer a child in mourning, but a young woman bent on discovering what killed her parents and avenging her losses.
Together with her parabatai Julian Blackthorn, Emma must learn to trust her head and her heart as she investigates a demonic plot that stretches across LA, from the Sunset Strip to the enchanted sea that pounds the beaches of Santa Monica. If only her heart didn't lead her in treacherous directions...
Making things even more complicated, Julian's brother Mark—who was captured by the faeries five years ago—has been returned as a bargaining chip. The faeries are desperate to find out who is murdering their kind and they need the Shadowhunters' help to do it. But time works differently in faerie, so Mark has barely aged and doesn't recognize his family. Can he ever truly return to them? Will the faeries really allow it?
---
In a kingdom by the sea...
In a secret world where half-angel warriors are sworn to fight demons, parabatai is a sacred word.
A parabatai is your partner in battle. A parabatai is your best friend. Parabatai can be everything to each other—but they can never fall in love.
Emma Carstairs is a Shadowhunter, one in a long line of Shadowhunters tasked with protecting the world from demons. With her parabatai Julian Blackthorn, she patrols the streets of an secret Los Angeles where vampires party on the Sunset Strip, and faeries teeter on the edge of open war with Shadowhunters. When the bodies of humans and faeries start turning up murdered in the same way Emma's parents were murdered years ago, an uneasy alliance is formed. This is Emma's chance for revenge—and Julian's chance to get back his half-faerie brother, Mark, who was kidnapped five years ago. All Emma, Mark and Julian have to do is solve the murders within two weeks... before the murderer targets them.
Their search takes Emma from sea caves full of sorcery to a dark lottery where death is dispensed. As she uncovers the past, she begins to peel away the secrets of the present: What has Julian been hiding from her all these years? Why does Shadowhunter law forbid parabatai to fall in love? Who really killed her parents—and can she bear to know the truth?
The magic and adventure of the Shadowhunter Chronicles have captured the imaginations of millions of readers across the globe. Fall in love with Emma and her friends in this pulse-pounding, heart-rending new volume sure to delight new readers and longtime fans.
Plot
SPOILERS AHEAD!
work in progress; incomplete and not reliable as a source of information
One day in August 2012, Kit Rook is helping his father, Johnny Rook, set up his booth at the Los Angeles Shadow Market. Despite his simple stall, Johnny is frequented because he deals in secrets. Johnny sends Kit to get change for his bills. While walking around the Market, Kit reflects on his possession of "the Gift" and how sheltered his childhood has been since he first saw werewolves fighting as a child. Kit spots a group of people in expensive clothes promoting the Lottery; one of them tries to give him a pamphlet but stops pushing when Johnny shares a look with the woman: no one crosses Johnny.
Kit then buys shaved ice from his favorite stall and proceeds to Wren's spot. Wren is a witch selling charmed jewelry and an acquaintance of Kit's. They chat for a few minutes until Wren is spooked by the arrival of two Shadowhunters, prompting her to immediately leave. The two Shadowhunters head towards Johnny's stall, a Kit follows, making sure to hide himself, as his father has always instructed him to not get noticed, especially around Shadowhunters who have apparently been kidnapping mundanes to turn into one of them.
The blonde Nephilim greets Johnny, who mistakes her redheaded companion as her parabatai, and the girl is quick to correct him. The boy introduces himself as Cameron Ashdown as the blonde's—Emma's—girlfriend. Emma asks Rook if he'd found out anything, and he shows her the red cloth she'd left with him the week before. Emma is disappointed when Rook says that he hasn't found out anything. She spots Kit and when she asks him if he too had the Sight, like his dad, Rook quickly blocks her view of his son.
Johnny quickly changes the topic back, hinting that she should be inquiring about the murders that have been taking place all over Los Angeles. She says that she has heard the rumors were about dead mundanes; Rook, however corrects her and says that several of the dead bodies were fey. Cameron interjects that they can't look into the murders because of the Cold Peace. Once Rook says that the bodies were covered with writings, Emma is hooked with the possibility that they could be similar to the ones on her parents's corpses. Emma pays Johnny for everything he can tell her about the murders, and he offers up that the victims get "grabbed" and turn up dead a few nights later. He adds that the last time someone was grabbed was two nights ago, and that the body will probably be dumped the next day; word on the street is that the next body dump will be by the Sepulchre Bar. Emma thanks Rook for the information and bids goodbye to him and Kit. After Emma and Cameron leave the booth, Rook tells his son to become less noticeable; he later reinstates that he—Kit—is his biggest secret.
Later, while waiting on the roof of the Sepulchre Bar, Emma Carstairs breaks up with Cameron Ashdown over the phone. Cristina Rosales is with her, having applied Emma's glamour runes. She scolds Emma for the callous nature of her breakup once Cameron hangs up, and Emma recalls Cristina's secretive behaviour about her past.
Emma also misses the Blackthorns, as they have been gone for two months visiting a great-aunt in England. She is grateful for Cristina's arrival, as they immediately became best friends. They talk for a while, and Cristina mentions her life in Mexico, which surprises Emma. While inking a Farsighted rune for Emma, Cristina asks Emma about her reasons for pursuing the information Rook gave them; Emma explains why she doesn't believe Sebastian Morgenstern killed her parents. Cristina has her doubts, as their tutor Diana Wrayburn warned them to stay away from Johnny Rook and Shadowhunters aren't supposed to go to the Shadow Market.
They suddenly spot a faerie glamouring humans into giving him jewellery and valuables. Emma confronts him, despite Cristina's objections. The faerie mentions Mark when he learns Emma's name, and uses her surprise to attack and run away. Emma runs after him and trips over a body in an alley; the body is in the same condition as Emma's parents.
Emma and Cristina call Diana and the Silent Brothers, who keep the two away from the body. Emma is furious at being unable to study the body herself, and tells Diana as much when she arrives. Diana questions Emma, who insists that the markings and conditions are the same as her parents. Diana expresses concern for Emma, as with Julian gone she can be hurt easier, but Emma desperately wants to see the body. Diana relays that the Brothers said no, and promises to tell Emma anything she learns. Emma is disappointed and gets in the car to leave, but is pleased to find out that Cristina took pictures ahead of time.
Chapters
There are 27 chapters; the titles are derived from lines (in no particular order) in the poem "Annabel Lee" by Edgar Allan Poe.
Prologue

A Sepulchre in This Kingdom
Neither the Angels in Heaven
The Moon Never Beams Without Bringing Me Dreams
And This Was the Reason
Highborn Kinsmen
Many Far Wiser
The Sounding Sea
Out of the Cloud by Night
Kingdom by the Sea
And She Was a Child
A Maiden There Lived
Stronger by Far
With No Other Thought

Bright Eyes
The Angels Not Half So Happy
By the Side
The Demons Down Under the Sea
All the Night-Tide
Chilling and Killing
Long Ago
A Wind Blew
Those Who Were Older
To Love and Be Loved
By the Name of Annabel Lee
Tomb by the Sounding Sea
The Winged Seraphs of Heaven
Sever My Soul

Epilogue
Characters
Shadowhunters
Downworlders
Gallery
Covers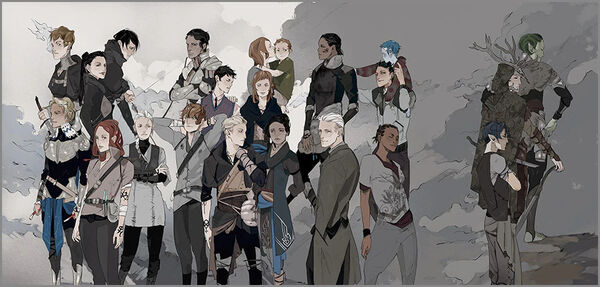 Art
Trailer
Special content
Certain hardback first editions in English include:

Every first page has a hand-stamped rune.
A short story, entitled A Long Conversation, of a party mentioned in Lady Midnight attended by the Mortal Instruments characters.
Art illustrated by Cassandra Jean on the inside of the dust jacket (Costco only)
A map of supernatural locations in the books (Costco only)[1]
An exclusive piece about "Emma's LA" (Waterstones UK/Ireland edition only)[2]
Trivia
The title refers to the Annabel Blackthorn, who is famously known in Shadowhunter folklore as Lady Midnight.
Aside from beginning the pattern of nobility titles for The Dark Artifices book titles, Lady Midnight is also named after the Leonard Cohen song of the same name.[3]
The cover features Emma Carstairs drowning in the ocean; specifically, it depicts a scene in the book.
The book is set in August 2012. While the original plan was always to have it set in 2012,[5] it was changed to 2013 for some time before being moved back to 2012.[6]
The book is told from different points of view, namely: Emma, Julian, Cristina, Kit, Mark, and, briefly, Annabel.
References
Ad blocker interference detected!
Wikia is a free-to-use site that makes money from advertising. We have a modified experience for viewers using ad blockers

Wikia is not accessible if you've made further modifications. Remove the custom ad blocker rule(s) and the page will load as expected.