Jocelyn Fray
Talk

0
422pages on
this wiki
"I don't think she doesn't believe she can die. I think, just like you always did, she believes there are things worth dying for."
—Luke to Jocelyn about her and Clary, City of Lost Souls
Jocelyn Morgenstern (neé Fairchild), also known as Jocelyn Fray, is the mother of Clary Fray and fiancée of Luke Garroway.
Jocelyn was originally an active Shadowhunter and a member of The Circle with her husband, but after discovering the husband's heinous and cruel acts, she abandoned the cause and was a key orchestrator in The Uprising. She was married to Valentine Morgenstern and gave birth to Jonathan Christopher and Clarissa Morgenstern, and later left him to protect the unborn Clarissa from further experimentation.
Biography
Edit
Early life
Edit
Jocelyn was born as Jocelyn Fairchild in 1970 to Adele Nightshade-Fairchild and Granville Fairchild II. She spent her complete life in the Fairchild manor house, even when she got married to Valentine Morgenstern. In her earlier life, she developed a close friendship with Lucian Graymark, with the latter developing a sincere love for her. Jocelyn remained oblivious to the fact until much later in her life. She also developed a close friendship with Amatis Graymark.
When Jocelyn was roughly sixteen, she and Lucian left their rural community and traveled to Alicante to complete their training. During this time, Jocelyn became good friends with Madeleine Bellefleur. They all began school there and Jocelyn was claimed to be a natural Shadowhunter. This highly contrasted Lucian, who found great difficulty in his training. All of this changed when he began talking to Valentine Morgenstern. He was a year younger than Valentine, but they soon became great friends and later parabatai.  Many began to flock to Valentine, with Jocelyn later joked the Circle consisted of nothing more than "Valentine's fan club". Jocelyn and Valentine's relationship soon turned romantic after the death of Valentine's father. Only Madeleine disagreed with their relationship as she had never liked Valentine, but Jocelyn dismissed the notion as mere jealousy.
After finishing her schooling, Jocelyn married Valentine. They moved into her family's manor and lived there happily. Underneath the surface however, Valentine displayed a great aggressions against Downworlders, as he had since his father's death. He formed the Circle from all of his old friends from school as with the intention to reform what he considered an outdated and hypocritical Clave.
All of that changed when Jocelyn became pregnant. The couple were exceptionally happy. Unknown to Jocelyn however, Valentine had been feeding her tonics laced with Downworlder and Demon blood, resulting in violent and mortifying hallucinations and nightmares. When the baby was finally born, she was overjoyed to meet her new son. However, when she gazed into his eyes, she was terrified to see the child's eyeballs were entirely black, like a demon's. While feeling guilty at immediately hating the child, Valentine was loving and named the boy Jonathan Christopher. She also heard intense screaming through the walls. In fear of her husband, she approached Lucian, who confronted Valentine. On the same night he was attacked by a werewolf. She and Valentine kept the occurrence a secret and waited with Lucian. When the next full moon came, Lucian transformed.
When he returned Jocelyn tried to console him, but Valentine ordered her away and took Lucian outside. Later, Valentine walked in and claimed that Lucian had killed himself. Devastated, she fell into a deep depression as a result of both her hatred for her son and the death of her best friend. Deeply worried for his wife, Valentine began mixing the angel Ithuriel's divine blood into her food, which unknowingly contributed to their daughter's powerful rune-making skills. After the couple's split, Valentine believed the girl born of Jocelyn was the product of Lucian Graymark and Jocelyn, rather than their second child.
She saw Luke in secret and together, they plotted against Valentine. When the Uprising occurred, they bought Downworlders and Shadowhunters to counter her husband's attack. In the middle of the fight, she fled to the Fairchild manor, which Valentine had already set on fire. In the ruins, she found the skeletons of her parents and what she thought were Valentine and Jonathan's skeletons. She left the Clave to start a mundane life with her unborn child, Clary. However, before she left, she told Luke that she thought Valentine was still alive and that she was pregnant again.
The Mortal Instruments
Edit
City of BonesEdit
Jocelyn grounds Clary from going out after she returns late from the Pandemonium Nightclub with Simon Lewis. Clary is angry and storms out of the house. Later, Clary meets Jace and they talk about the things she can see, but other mundanes can't. Twice, Jocelyn calls her, but Clary doesn't pick up, on the third try, Clary hears Jocelyn panicking and telling her not to come home. She orders Clary to call Luke and tell him what's happened.
It turns out that Valentine was breaking into her house to get information on the location of the Mortal Cup. Jocelyn had time to swallow a special potion that put her in a self-induced coma, before Valentine broke her door down.
Clary, contrary to her mother's instructions, runs home, leaving Jace to follow her. There she finds their apartment ransacked and is confronted by a
Ravener demon
, but she manages to kill it using Jace's sensor. Jace finds her lying in a pool of demon blood with a dead demon on top of her. 
Clary and Luke travel to Valentine's hideout at Renwick's, they find the body of Jocelyn who is still alive but in a coma. However, before they can rescue her, Emil Pangborn confronts them and Luke fights them. In the end, they recover Jocelyn and take her to a private hospital.
City of GlassEdit
Clary meets Madeleine Bellefleur, a friend of Jocelyn's who disagreed in her relationship with Valentine, and tells her that she knew that Jocelyn had taken the potion, and agrees to help Clary.
Magnus Bane concocts a potion from the Book of White that revives Jocelyn. Jocelyn enters, in full Shadowhunter gear, during the meeting of the Clave, drawing whispers and gasps. She and Clary have a heart-to-heart talk just before the battle between Valentine's army of demons, and the Shadowhunters and Downworlders. She tells Clary that Valentine talked to her whilst she was in a coma and reveals that Jace isn't her brother, but Jonathan, disguised as Sebastian, is.
Luke finally confesses his love for her, but she does not reply, and he leaves for the Clave meeting. However, Amatis confronts her over her feelings for Luke, and is ecstatic when she sees Jocelyn's face which reveals that she loves him too. Amatis and Clary 'force' her to run after Luke and stop him from getting to the Clave meeting, which it seems she does.
City of Fallen AngelsEdit
Jocelyn is planning for her upcoming wedding to Luke.
City of Lost SoulsEdit
Jocelyn gets up in the night to get a glass of water, but upon walking into the kitchen sees her son. She screams, and apologises for not killing him when he was a baby.
Jocelyn travels to the Adamant Citadel, home of the Iron Sisters, with Isabelle Lightwood to ask for their help to find or create a weapon to sever the demonic parabatai bond between Sebastian and Jace Lightwood.
Relationships
Edit
Valentine Morgenstern
Edit
Jocelyn was married to Valentine Morgenstern, but when Jocelyn realized her husband was evil, she rebelled against him and allied herself with Lucian Graymark, her childhood friend. After Valentine's plan against the Clave was unsuccessful, Jocelyn ran away from Alicante to protect her unborn daughter, believing her son and husband to be dead. After Clary was born, she tried to shield her from the world of Shadowhunters to protect her.
When Valentine reappears and kidnaps her, she goes into a self-induced coma. It is revealed that her husband had poisoned her food with demon blood so that her first child, Jonathan Christopher Morgenstern, was born with a demonic nature. She then entered a stage of depression, and in an attempt to cure her, Valentine gave her blood from the angel Ithuriel, not knowing she was pregnant with a second child, Clary.
He was also conducting the same experiment with the son of Stephen Herondale, later cutting his son out of the dead body of his mother.
Luke Garroway
Edit
Luke was Jocelyn's childhood friend, whom she had befriended despite the fact that she came from a prestigious Shadowhunter family and he came from a normal, unnoticed one. Luke cares very deeply for her and his actions towards her daughter, Clary, are motivated by his love for her.
When Jocelyn plotted to overthrow Valentine, she allied herself with Luke, who by then had become the leader of a werewolf pack. When they ran away to Paris, he offered to marry her, but she rejected him kindly.
After Jace and Clary rescue Jocelyn from Renwick's, it is Luke who pays for her expensive private hospital room. When she is finally revived by Magnus Bane near the end of the third book, City of Glass, it is heavily implied that she reciprocates Luke's feelings for her (possibly finally seeing her love for him). At the end of the novel, Luke finally reveals his love for her, but when she doesn't say anything back he suggests they "forget it" and leaves. However when Amatis comes onto the scene having overheard her brother's confession, she can instantly tells Jocelyn loves Luke too (through Jocelyn's facial expression) and urges her to go after him; insisting all her brother has ever wanted was a life with Jocelyn. After some coaxing from Clary, who had also overheard Luke's confession, Jocelyn quickly runs after Luke. It is implied she did catch up with him as seen in the epilogue when, after arriving at the celebration of the successful war in the novel, Luke and Jocelyn can be seen holding hands and are obviously happy.
It is revealed in the preview chapter of City of Fallen Angels that she and Luke are to be married and are "disgustingly in love" as described by Clary. However, their wedding keeps getting put on hold due to whatever events are occurring in the novel. In City of Lost Souls when Luke is mortally wounded and barely survives a stab wound caused by Sebastian and rests in order to properly heal, Jocelyn says how she wishes he had told her how he felt about her sooner so she would have "married the right guy". When Luke says she would have married Valentine anyway, she firmly states she would have married him (Luke) instead and says that if she had "things would have been different". However, Luke says how he doesn't regeret how things turned out; telling her that if things had been any different, "they" wouldn't have Clary. Making Jocelyn happy since he said so "as though he was sure that Clary was his own daughter".
Clarissa Fray
Edit
Clary is Jocelyn's daughter, whom she ran away with believing that both Valentine and her son Jonathan were dead (in reality, it was the remains of Michael Wayland and his son she had found, and both Valentine and Jonathan had survived). Jocelyn cares very deeply for her daughter, sometimes coming off as overprotective.
The catalyst for Clary's allying herself with the Shadowhunters in the first book is Jocelyn's unconsciousness. Clary initially believed this to be because of Valentine and his forces, but it was revealed that Jocelyn had contacted Ragnor Fell about a plan to keep herself unconscious in order for Valentine to never know where she hid the Mortal Cup, telling nobody about this secret except her acquaintance, Madeleine. When the antidote is revealed to be in the White Book and is such given to her by Magnus Bane, Clary realizes how angry she was toward her mother's lying to her about everything, despite the fact that this was done for her own protection. The two later reconcile.
The two encounter more problems in City of Fallen Angels as well as City of Lost Souls over Clary's relationship with Jace. Jocelyn firmly believes Jace to be exactly like Valentine and hence has trouble adjusting to him as Clary's boyfriend. When Clary questions if she'll ever be okay regarding her relationship with Jace, Jocelyn insists that as long as he loved her she will be okay with it. However, her actions in the following book prove otherwise. She is angered that her daughter continues to care  about Jace due to his taking off with Sebastian. After he and Sebastian break into their home in an attempt to take Clary with them, she tries to kill Sebastian and possibly Jace as well. She, Luke and Clary leave the house when she states that Jace will come back for Clary as it is what Valentine did with her even after 15 years. The two take refuge in Magnus' home where the two argue over Jace and leading Jocelyn to yell that Clary and Jace aren't meant to be together. Stunned at her mother's words, this sends Clary into a fit of rage and leave the room in a huff. Determined to find more answers about Jace, Clary takes off with him in secret, much to Jocelyn's anger as well when she later finds out.  She talks with Luke about Clary, concerned than she thinks she can never die, but Luke insists that Clary is just like her (Jocelyn) when she was younger; she believes that some things are worth dying for in life. 
Physical description
Edit
She is often described as very beautiful, with curly red hair and green eyes that resembles her daughter's and sharp, well-defined features. Isabelle Lightwood thinks Jocelyn looks like a porcelain doll but being hard inside. She is also graceful, but lethal.
Personality and traits
Edit
Jocelyn was introduced in City of Bones as a kind, caring, albeit overprotective mother who supported both herself and her daughter with her paintings (and her "father's stocks" when they ran low on money, later revealed to be the Morgenstern family's ancestral jewelry). It was then revealed that this was all a facade to hide Clary from the Shadowhunter world. In reality, Jocelyn was a talented, powerful Shadowhunter.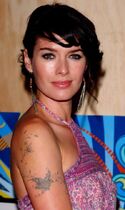 Jocelyn is portrayed by Lena Headey in the film adaptation, The Mortal Instruments: City of Bones.