The New York Institute is headquarters of the Shadowhunter in New York. It is a place of refuge for Shadowhunters who are away from their home in Idris.[1]
Appearance
The Institute is hidden behind a glamour, appearing to mundanes as a run-down cathedral. In fact, it is a majestic Gothic structure.[1] The front gate—a set of church doors—is fortified and protected by a locking mechanism from the inside.[2]
Features
Library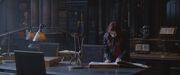 The library is the knowledge core of the Institute. It is filled with tomes detailing Shadowhunter and demon history.[1]
Inside the library is a statue of the angel Raziel. In the lower level is a Portal hidden behind a gate, with an etching of the Mortal Cup, that can be unlocked by turning the attached dial to select the right combination of runes in order. The Institute was built around the Portal.[2]
Greenhouse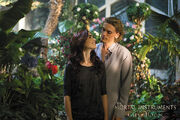 This arboretum contains a multitude of botanical species, some known only to Shadowhunters.[1]
Others
The Institute has an infirmary—a huge room with an arched wooden ceiling with murals. Additionally, it has several rooms in its residential wing that can hold the hundreds of Shadowhunters who used to seek asylum in the Institute.[2]
Residents
Trivia
According to Jace, some believe that the Institute was the first building in New York.
Scenes for the film were filmed inside University of Toronto's Knox College for the interior shots of the film's Institute.[3]
References