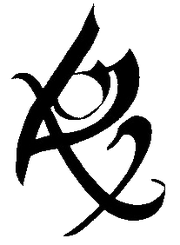 The Fearless rune completely eliminates the prospect of fear from the wearer. It literally makes the user afraid of nothing. This allows the wearer to be immune to Agramon's power.
History
This is a heavenly rune that Shadowhunters should not have access to, as in it was not in the Book of the Covenant given to them by Raziel. However, Clary Fray was able to create and draw the rune after receiving an image of it in her mind, due to the blood of Ithuriel running through her veins, and dubbed it "Fearless". She was able to call on it upon her friends' urging, giving her a word to work with. She used the runes on Alec Lightwood once to demonstrate, again on Jace to protect him against Agramon (though the rune took effect in battle, it had already burned away by the time he faced the demon), and has since become known to other Shadowhunters.
Featured in
Ad blocker interference detected!
Wikia is a free-to-use site that makes money from advertising. We have a modified experience for viewers using ad blockers

Wikia is not accessible if you've made further modifications. Remove the custom ad blocker rule(s) and the page will load as expected.