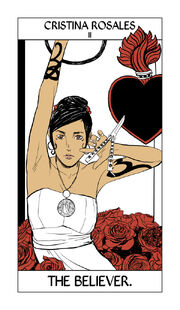 Cristina's medallion is a golden religious Shadowhunter pendant worn by Cristina to symbolize her faith in the Angel Raziel. The medallion is consecrated to Raziel, denoting the wearer's belief that the Angel was a living presence as opposed to a distant figure.
An image of Raziel is etched on the front, and a line on the back says, in Latin: "Blessed be the Angel my strength which teaches my hands to war, and my fingers to fight."
Cristina often looks to the medallion for support, touching it when she needs luck, bravery, or strength, or when she feels nervous.[1]
Trivia
The Latin words on its back were derived from the Bible,[2] reworded to fit Shadowhunter religion.
References
Ad blocker interference detected!
Wikia is a free-to-use site that makes money from advertising. We have a modified experience for viewers using ad blockers

Wikia is not accessible if you've made further modifications. Remove the custom ad blocker rule(s) and the page will load as expected.