Clockwork Princess is the third and final novel in The Infernal Devices series by Cassandra Clare. Chronologically, it is the third story in the Shadowhunter Chronicles.
Description
Tessa Gray should be happy—aren't all brides happy? Yet as she prepares for her wedding, a net of shadows begin to tighten around the Shadowhunters of the London Institute. A new demon appears, one linked by blood and secrecy to Mortmain, the man who plans to use his army of pitiless automatons, the Infernal Devices, to destroy the Shadowhunters. Mortmain needs only one last item to complete his plan.
He needs Tessa.
Charlotte Branwell, head of the Institute, is desperate to find Mortmain before he strikes. And Jem and Will, the boys who lay equal claim to Tessa's heart, will do anything to save her. For though Tessa and Jem are engaged, Will is still in love with her.
The last words of a dying Shadowhunter provide the clue that might lead Tessa and her friends to Mortmain. But their small group cannot stand alone, and the powerful Consul doubts that Mortmain is coming. Deserted by allies, the Shadowhunters find themselves trapped when Mortmain seizes the medicine that keeps Jem alive. With his best friend at death's door, Will must risk everything to save the girl they both love.
To buy Will time, the warlock Magnus Bane joins with Henry Branwell to create a device that could help defeat Mortmain. As they all work to save Tessa and the future of the Shadowhunters that resides with her, Tessa realizes that the only person who can save her is herself -- for in the discovery of her own nature, Tessa could become more powerful than she ever dreamed possible. But can a lone girl, even one who can command the power of angels, face down an entire army?
Danger and betrayal, secrets and enchantment, and the tangled threads of love and loss intertwine as the Shadowhunters are pushed to the very brink of destruction in the breathtaking conclusion of The Infernal Devices trilogy.
Plot
In York in 1847, Aloysius Starkweather's granddaughter "Adele" is set to receive her first Mark, the Strength rune, because of her fragility and delicacy. Adele fearfully and reluctantly lets the Silent Brothers perform the ritual, soothed by her beloved grandfather. However, Adele cries out in agony, and it is too late when they realize that she cannot handle the rune.
In London in 1873, Charlotte interrupts a young Will's target practice in the training room to introduce to him the new ward, Jem. Will, as usual, is rude to the boy and calls him sickly, as if "doddering to the grave," much to Charlotte's disappointment. However, Jem is seemingly unaffected by his words and points out to Will that he is indeed dying. Will apologizes and expresses concern. Jem tells him not to feel sorry for him. Jem tells him that he is a good shot and can help improve his skills. Much to Charlotte's surprise, Will agrees to train with him.
Back to the present, London in 1878, Tessa is trying out her gold wedding gown when Jem knocks on the door. The superstitious and pregnant Charlotte insists that Tessa hide so Jem does not see her in her wedding dress, as it is bad luck among Shadowhunters. Jem tells them that Gabriel Lightwood was in the Institute, "making the most dreadful row."
In the training room, Will is training his sister Cecily. Even two months after her arrival, Will is still seemingly not pleased that she is there, while Cecily has already adjusted, though was still trying to get Will to write to their family. Cecily has practiced knife-throwing in secret, so she confidently bet Will that he must write to them if she hits the target thrice; she does, though Will twists her words by saying that while he will write them, he did not agree to send it. Before the two could argue any further, Jem interrupts them and tells them of Gabriel.
Elsewhere, Sophie is bringing Gideon scones he asked for, along with some food Bridget prepared for him. He tries to talk to her, but Sophie is determined to avoid him, telling herself that her feelings for him will get them nowhere as she is a mundane servant, and that she has everything to lose, while Gideon does not. Gideon was just about to ask Sophie something before Henry arrived to tell Gideon about Gabriel.
With everyone gathered at the entrance of the Institute, Gabriel, upon the sight of Gideon, finally tells them his problem: their father, Benedict, has turned into a demon, in the form of a worm. Will, Jem, Gabriel, Gideon, Henry, Cecily and Tessa then goes over to the Lightwood's country home in Chiswick, and Gabriel kills Benedict with an arrow through the eye. Gabriel truly opened his eyes to Cecily that night - she'd jumped onto Benedict distracting him despite minimal training. Gabriel cut off Will's scolding, saying 'That was one of the bravest things I've seen a Shadowhunter do.'
Meanwhile, unbeknown to the residents of the Institute, there was an issue of who was going to become the next Consul. While the members of The Council suggested Charlotte, Consul Wayland disagreed due to not wanting to lose his own legacy, and suggested his nephew George Penhallow instead.
Will discovered the next day that Jem had been taking extra doses of yin fen, a process that would accelerate his death. It was because Jem had told Tessa that his love for her was healing him, and he feared Tessa would think he was lessening his love for her. That day, Jem also allowed Will and the others to continue the search for a cure, something he'd forbidden them to do a few years ago.
At about midnight, a distraught Will told Tessa that someone had bought up all the yin fen - he'd spent that entire evening going to all suppliers to find none at all in stock. They sought out Magnus for help, but came back empty-handed - save for a pendant that warns when demons are close.
Consul Wayland, upon hearing that Benedict (as a demon) had been slain by Gabriel, lured he and Gideon away for a 'private talk.' He blackmailed them into agreeing to expose Charlotte's correspondence - hoping to manipulate the information into something to use against Charlotte. Gabriel and Gideon decided to write irrelevant letters to the Consul, hoping he'd give up on them and leave it at peace.
Mortmain sent a letter to the Institute confirming that he'd bought up all the available yin fen, asking for Tessa in exchange for the drugs. Jem demanded that Tessa would not be sent to Mortmain.
That night, Jem and Tessa decided they'd marry the next day instead of their scheduled wedding in December.
Jessamine was brought back to the Institute the next day - the scheduled date of Jem and Tessa's wedding. The Magister's automatons attacked and kidnapped Tessa. Jessamine, having taken a fatal stab to the back, dragged herself over to Will to tell him that Mortmain was in 'Idris' before dying.
work in progress; not advisable for reference purposes as info below is incomplete!
Cecily overhears Will's conversation with Jessamine and figures out that Mortmain is hiding in Cadair Idris, a mountain near where Will used to live in Wales, as she knew Mortmain and his personality.
Will asks Magnus Bane to help them find a cure for Jem, who is dying and running out of yin fen. Magnus asks Will if Jem knows that he was in love with Tessa, but he tells Magnus that he did not want to hurt Jem. But Jem overheard and gives Will his blessing to rescue Tessa, instead of him as he is too ill.
On the road to Wales, Will feels his parabatai rune bleeding, and realizes that Jem has died. He throws up and asks Woolsey Scott for advice, even though he got into a fight with some of his werewolf pack. Will cuts his hand with Jem's dagger and buries it in the ground by a tree.
He eventually finds Tessa in Mortmain's hideout, and rushes to her without thinking, causing him to be trapped inside the invisible barrier with Tessa. Believing that Jem was dead and thinking that they would both die, Will confessed everything to Tessa and told her how much he loved her, then they both had sexual intercourse during the night.
The next morning, Tessa wakes up and realizes that her clockwork angel is on his shoulder near his neck, and she pulls it away to find that it had left a mark in the shape of a small white star on Will, thus creating the mark of the Herondales that will be seen on the descendants in the future generations.
Magnus Bane then finds the two and gives a comment regarding what they were doing. Relieved and embarrassed, Will quickly puts on his clothes along with Tessa, and they both follow Magnus to where the others were. The others were fighting hundreds of automatons, and they were losing. Will joined in the battle right away, telling Magnus to keep a watch on Tessa. However, in the gist of the battle, Will finds out that one of the Silent Brothers, Brother Zachariah, was actually Jem, and he was not dead! At the same time, Tessa gets kidnapped again and Mortmain holds her, threatening Will and the other Shadowhunters with her. Tessa Changes into the angel trapped inside or necklace, Ithuriel, leaving Will in awe as he watched her blaze with fire. She kills Mortmain, but she Changes back into herself afterwards and falls to the ground unconscious, making Will very worried. They had won the battle, but once Will returned to the Institute with the others, he entered a state of depression since he was worried about Tessa not regaining consciousness, and feeling lost without Jem. Much to his happiness, Tessa recovers and he has a conversation with Jem, however the conversation with Jem made him a little sadder for a few weeks, but he soon recovered after fighting like he normally would against demons and enduring days without Jem. Will and Tessa grew closer and closer afterwards, until Will finally proposed to her and Tessa said yes. They scheduled to marry when Will turned 18, and he used Henry's Portal to go back to Wales along with Cecily, Tessa, and Gabriel to visit his parents after so long. Will and Cecily have a happy reunion with their parents, and Will announces that Tessa is his fiancee. He has a wonderful time in visiting his parents after 5 years.
Tessa and Will get married and have two children, James and Lucie. It is revealed that Will died at 78 years old in 1937 of old age, and Jem, as Brother Zachariah, visits him on his deathbed and plays to him for one last time before he dies. Tessa is heartbroken when Will dies and begins to travel with Magnus Bane, who understands the grief of out living loved ones. The two part ways in New York where they went because of World War II. Church the cat comes with them and is dropped off at the New York Institute. Later, in 2008, Tessa is meeting Jem on the bridge and we see that Jem has given up the life of a Silent Brother. They reunite and kiss; Tessa invites Jem to travel the world with her. Tessa also recalls the pain of watching Will die and living her family when he realizes how her children, and grandchildren, age while she remains young. She vows to not get close to her descendants.
work in progress
Chapters
Prologue: York, 1847, and London, 1873

A Dreadful Row
The Conqueror Worm
To the Last Hour
To Be Wise and Love
A Heart Divided
Let Darkness
Dare to Wish
That Fire of Fire
Graven in Metal
Like Water Upon Sand
Fearful of the Night
Ghosts on the Road

The Mind Has Mountains
Parabatai
Stars, Hide Your Fires
The Clockwork Princess
Only Noble to be Good
For This Alone
To Lie and Burn
The Infernal Devices
Burning Gold
Thunder in the Trumpet
Than Any Evil
The Measure of Love




Epilogue: London, Blackfriars Bridge, 2008
Special content
The first edition copies of Clockwork Princess came with the genealogical tree of the Carstairs, Herondale, and Lightwood families, thus linking the London Shadowhunters of The Infernal Devices to the Shadowhunters in modern day New York and Los Angeles.
Gallery
Covers
Illustrations
Videos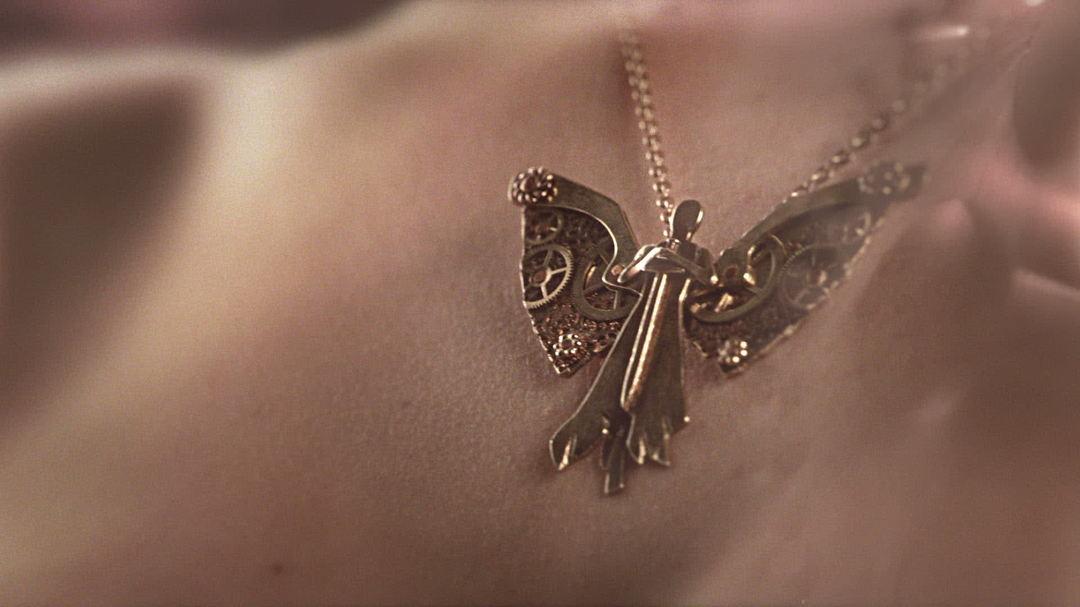 Trivia
The original (now hardbound) cover features Tessa Gray holding The Shadowhunter's Codex and wearing the clockwork angel pendant against a backdrop of the Blackfriars Bridge. The repackaged (paperback) cover also features Tessa, this time sitting on the ground, wearing a bloody dress. Her necklace, the one holding her clockwork angel pendant, is on the ground in front of her, while a bigger illustration of the clockwork angel stands behind her.
The cover model for Tessa on the original and repackaged US covers is Kiersten Brada,[1] who also portrayed Tessa in the trailer.[2] Jem is portrayed by Yoshua "Yoshi" Sudarso and Will by Skyler Hart in the trailer, which was in turn produced by Dirty Robber and directed by Charles Haine.
The book is told from several points of views, namely: Tessa, Will, Jem, Charlotte, Henry, Sophie, Cecily, Gabriel, Gideon and briefly in Mr. Sallows and Aloysius's.
In this book, Will gives Tessa a copy of A Tale of Two Cities with a letter that he signs off with "Will Herondale"; in City of Lost Souls, Jace finds the same book, but the inscription ends with his full name, "William Herondale".
References