Clockwork Angel (pendant)
Talk

0
422pages on
this wiki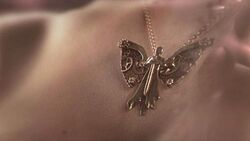 The Clockwork Angel was a pendant worn and owned by Tessa Gray. It had the angel, Ithuriel, trapped inside of it in order to protect Tessa from death.
The Angel was made by John Thadeus Shade as a gift to his wife Anne Shade, but he never got a chance to finish it.
John's adopted son, Axel Mortmain, spent years finishing the pendant. He tuned it to Tessa Gray's life, while she was still unborn, and gave it to her mother, Elizabeth, to someday pass onto her and made sure that Tessa would not be born stillborn. The Angel, since tuned to Tessa's life, was designed to save Tessa from death.
Elizabeth continued to wear it after Tessa's birth and even had it with her when she died in the carriage accident.
After Elizabeth's death, Tessa's brother, Nate, found it in their mother's jewelry box and gave it to Tessa when he found that he could not wind the clockwork. After that, Tessa has always worn it, even sleeping with it around her neck. She saw it as a symbol of her mother and her life in New York.
The Infernal Devices
Edit
Clockwork AngelEdit
Tessa brought it with her when she came to England. When Mortmain attacked the Institute, the angel grew blades and fought of the automatons. It disappeared for a while but returned to her days later.
Clockwork PrinceEdit
Tessa told Will that she had been trying to change into her mother with the pendant, but it never worked.
It fought an automaton sent by Mortmain in Yorkshire. Tessa did not bring the pendant with her when she went to see Nate, because she was posing as Jessamine. When he died, he told her to keep it close.
Clockwork PrincessEdit
Mortmain finally told Tessa what the angel was for. When Tessa learned this, she tried to destroy the pendant, only to summon Ithuriel.
After a night with Will Herondale, the angel touched his shoulder and left behind a star shaped mark.
Tessa used the angel to turn into Ithuriel to defeat Mortmain, which almost killed her in the process. This set Ithuriel free, but caused the angel pendant to stop ticking.
The Mortal Instruments
Edit
City of Lost SoulsEdit
When Clary tried to steal from the Institute's library, she saw the angel in a glass case.