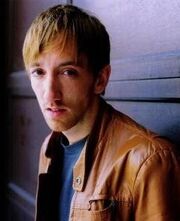 Chris Ratz portrays Eric Hillchurch in the film adaptation of City of Bones. The actor has had roles in Jesus Henry Christ, Cold Blooded, Score: A Hockey Musical, Suck, The Incredible Hulk, and The Tracey Fragments. Chris has also appeared on the TV shows Good God, Dan for Mayor, Murdoch Mysteries, Puppets Who Kill, and the mini-series The Englishman's Boy.
Ad blocker interference detected!
Wikia is a free-to-use site that makes money from advertising. We have a modified experience for viewers using ad blockers

Wikia is not accessible if you've made further modifications. Remove the custom ad blocker rule(s) and the page will load as expected.