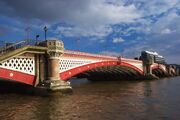 Blackfriars Bridge is a road and foot traffic bridge over the River Thames in London, between Waterloo Bridge and Blackfriars Railway Bridge.
History
The Blackfriars Bridge is the favorite place of Jem Carstairs in London, enjoying the solitude brought by what he referred to as the hideous railway bridge next to it. In 1878, he shared this with Tessa Gray in hopes of soothing her frustrations. The same night, they were attacked by automatons, in the guise of a couple, sent by Axel Mortmain. Despite the intrusion, the evening still became a memory often reminisced by the pair, and was the moment when Jem realized he loved Tessa.[1][2]
When Jem became a Silent Brother, he agreed to meet with Tessa at the bridge every year, for at least an hour. They maintained this promise for 130 years and saw each other at the bridge every January, only ever skipping their annual meeting once in 1941, when London was affected by WWII and was too dangerous to meet at. In their 2008 meeting, however, Jem met her as a mortal, free of his Silent Brotherhood and his illness.
In 2009, the couple married at the bridge, attended by friends and relatives. Magnus Bane had placed a temporary glamour over it to prevent mundanes from crossing for a short while as the ceremonies took place.[2][3]
Trivia
The chapter when it was first featured was actually the eponymous fourteenth chapter of Clockwork Angel.
It was actually on the Blackfriars Bridge that Cassandra Clare got the idea for The Infernal Devices, after envisioning a boy and a girl in Victorian dress standing at the edge of the bridge.[4]
References